Parlez-vous Francais?
Voudrais-vous apprendre parler Francais?
In English, that's "would you like to learn to speak French?"
If your answer is an enthusiastic oui, then welcome to the world of Francophones.
Did you know that French is the 6th most spoken language in the world and that it is 2nd in total countries where it's an official language?
That's second only to English! 🙂
French is spoken on every continent, taught in every country in the world.
Even in the US, French is the number four most spoken language, and because of the close relationship between France and England over the centuries, English, which is actually Germanic in origin, still shares about 30% of its vocabulary with French.
That's a lot of words you don't have to relearn!
Ready to get started learning French but don't know where to start?
The Internet is full of options for online French courses, but which do you choose?
Some things I've learned while learning French is that it takes multiple resources to cover all the areas of language learning; I have yet to find a course or program that I would exclusively use.
One last word before we dive in: take these reviews with a grain of salt.
What works for one person may not work for another.
Just because it's not in my 'best online French course' list doesn't mean it won't work for you; conversely, if a program is my favorite doesn't mean that it's for you.
Let's get started with best online French course reviews.
NOTE: Some of the items listed below might not exactly be categorized as a French "course". I've included them because they're so popular or important that it would be wrong to leave them out. There are also some affiliate links below.
The very best online French courses (my top picks)
1.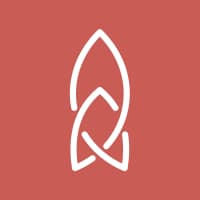 Pricing: Starts at $99.95
Course summary: Rocket French will take you through a series of steps for each of their French lessons. You begin with an audio lesson, then a written section that dives deeper into grammar and cultural information.
Divided into three levels, the free trial they offer allows you to test your French skills based on their levels so you can choose the right one(s) for you.
One of the particularly nice features of Rocket French is their review and recap quizzes. Once you finish a section, you're quizzed on the content you learned, giving you an overview of all the concepts you learned. There's also a series of tests that reinforce what you've learned in different ways, including speaking, writing, translating from English to French, and flashcards.
Although this is one of the more structured and comprehensive courses, some users have found the format a little repetitive. The content could be a little more exciting and engaging instead of focusing on memorization.
For $100 you will get level 1, $250 you get levels 1 and 2, and $260 will get you all three levels. It's clearly more economical to buy all three at once unless you're already past the first ones.
2.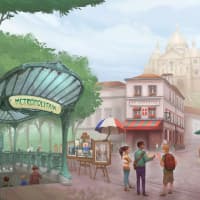 Pricing: $297
Course summary: French Uncovered has a novel approach to learning a new language. Instead of a classroom where new words and grammar concepts are introduced and then practiced, learners jump into a story, learning vocabulary and grammar by osmosis. Most importantly, you learn what real, everyday French sounds like.
Over twenty chapters, you immerse yourself in real French, learning the way all of us learn our mother tongue – through natural listening. After each chapter is a short quiz to solidify what you've just learned. The questions can be a bit light in content, however. And since you jump right into the language, absolute beginners may find it hard to gain any traction.
Along with the quizzes, French Uncovered offers more grammar tips and instructions. The extra information explains some of the trickier French concepts and is quite in-depth. Some people have likened it to drinking from a firehose of information. But since you don't necessarily need to completely understand the grammatical structure to keep going, it's not going to stop you if you don't want to go that in-depth at the moment.
A one-time charge of about $300 will give you access to all of the features, and if this method turns out to not be for you, there's a 30-day money-back guarantee. If you want something to keep you interested and motivated to learn French, what better way than story-telling?
3.
Pricing: Starts at $24 per month
Course summary: Like yet unlike any other online French course, Frantastique teaches you French through an immersive story. Follow a cartoon Victor Hugo – dressed only in his beard, PG suggested – as he learns about the world of the French.
Once you sign up for Frantastique, you'll get one emailed lesson a day. On the one hand, you won't be able to binge-learn, on the other hand, it encourages slow but steady learning. Each all-French lesson includes dialogue in different accents to boost comprehension no matter who's speaking French.
The lessons are also personalized; after completing each days' exercises, you'll receive a personalized review and the next lesson will follow your progress.
Because the course begins with lessons entirely in French, this course isn't recommended for beginners. Later beginner through advanced will benefit immensely from the immersion technique and personalized lessons. And if you have a somewhat whacky sense of humor, you should take a look at Frantastique.
Subscriptions run between $24 per month, Premium for $36 per month, and Pro for $48 a month. At the Pro level, you have the opportunity to earn a certified diploma, recognized in France, making it one of my choices for the best online French course.
4.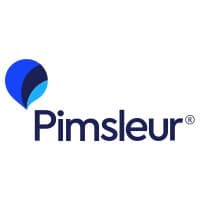 Pricing: $14.95 per month or $119.95 one-time
Course summary: A well-known name in language learning, Pimsleur is a popular choice because of their teaching philosophy. Pimsleur has students start speaking and using what they've learned right from lesson one. Each lesson builds on the last and reinforces the previous vocabulary by repetition.
On the other hand, Pimsleur is weak on the grammar aspects of French, a pretty significant downside given that French speakers are insistent on others speaking their language correctly. Additional resources would be necessary to understand the language in all its subtleties.
Overall, people love Pimsleur because they can jump right into their language of choice and feel like they're learning a lot right away. Pimsleur also has an app for handy learning on the go. If you do one lesson a day, you could complete the course in around five months.
At between $15 to $20 a month, it's not a comprehensive course, but certainly an excellent source for seeing immediate results.
5.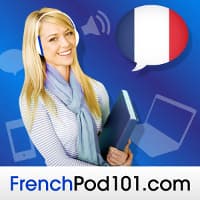 Pricing: Starts at $8 per month
Course summary: Here's another immersion course, this one with audio and visual clips on culture and customs. It's sliced up into bite-sized pieces based on a variety of topics
Despite the wide array of offerings, the organization of the website is often confusing. The app is also not as easy to navigate as other courses. There's also nothing to keep you on track and motivated either, so if you're one who needs a little incentive, maybe this isn't for you. Self-motivated people, however, will have no problem finding themselves back at FrenchPod101.
Some reviews mention that the quality of the podcasts varies, mainly because the podcasts are hosted by different teachers. But in general, the lessons are thorough in their topic area. Each lesson is completely downloadable, as is the transcript of the lesson. The podcasts are mostly in French so the transcript is there for when you find you can't understand what was said.
Premium subscriptions are available; fortunately, the majority of the features most people want is in the basic subscription. Features like "Ask a Teacher" for when you have specific questions are part of the premium plus subscription, a handy add on for those of you who like a personalized touch.
Subscriptions run between $8 to $42 a month depending on what level of services you get and how long you commit for.
6.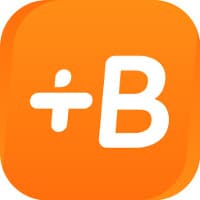 Pricing: $12.95 a month
Course summary: A lot of online resources are geared towards helping intermediate to advanced learners refine their skills. Babble is one course that starts right at the beginning with a structured path of vocabulary and grammar.
There are no levels beyond intermediate, however, and there's very little experience with conversational French. But with a price of $13 a month for the most expensive option, Babbel is a great option for starting out in French.
7.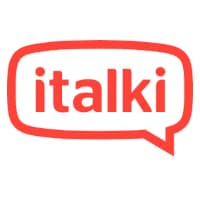 Pricing: Starts as low as $4 an hour
Course summary: Finding a personal tutor just got easier with italki. Long-time teachers and new teachers alike can be found on italki, at anywhere between $4 and $60 per hour. Most of the teachers fall in the $10 an hour range.
The quality level of tutors will of course vary but all of the professional teachers are at least certified if not university professors. There are also community tutors who may not have a degree but are still wonderful teachers and would be happy to work with you. With almost four hundred registered professional and community tutors, it may take time to find one that you work well with. There's also nothing to keep you on track for taking lessons.
For the extremely reasonable cost though, you get personalized learning, help with particularly tricky grammar points, or just a conversation partner who can help correct you while you chat.
8.
Pricing: Starts at $109
Lingoda offers online classes like you were actually in a classroom with other students. Lingoda offers classes for all levels of French and other languages in packages of 10, 20, or 30 classes a month, costing $109, $199, and $259 respectively.
Once you sign in to the classroom platform, you have access to the library of classes. Each class lists course objectives so you don't waste one of your allotted classes on something you already know. The classes are live and are offered at all different times, midnight to midday and back again.
The amount of material covered in your chosen class depends a lot on your classmates and how comfortable you and they feel with the covered material. The "homework" material is in a PDF so if you want to make use of that you'll need a program that will edit those.
Other popular online French courses
So I've mentioned my top picks above.
But there are loads of other great French course options you should know about (if you don't already!).
Here they are:
9. Rosetta Stone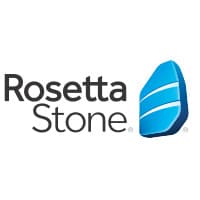 Pricing: Starts at $6.49 per month
Course summary: An old established language learning course, Rosetta stone was very popular back when there was no internet. It set the bar for language learning software, using the association between pictures, actions, ideas, and words, bypassing the direct translation between your native language and French. This works for words that don't have direct translations; by using concept-to-word translations rather than word-to-word translations, you can begin thinking in French right away.
Although Rosetta Stone is a well-established method in language learning, the format is outdated and needs some significant updates to keep up with the latest in learning philosophies. The words are often taught without context in a sentence so you won't be able to actually use the words you've learned until later in the course when the course begins stringing the words together. Moreover, the sentences they teach can sometimes be bizarre phrases you're never likely to use.
Another area Rosetta Stone falls short is the immersion into the culture surrounding a language. The same series of lessons are taught with the same words and materials regardless of relevancy to the culture.
One improvement Rosetta Stone has made is the payment model. While you can still buy the software for your computer in CD or online download at around $100 per level – five levels in total, you can also purchase a subscription for 3, 6, 12, and 24 months at a time. 3 months at $26 down to $10 a month for 24 months is still a pretty steep price when you consider the number of lower-priced options.
10. Coffee Break French
Pricing: Prices vary greatly depending on course
Course summary: Coffee Break French offers four levels, or "seasons", of podcasts; beginner, intermediate, upper intermediate and advanced. The lessons in the first two seasons are grouped around topics and grammar concepts, taught in a podcast that features a teacher and a student. The lessons are friendly and informative and taught in French so you can understand the ideas being taught.
The upper intermediate and advanced lessons follow a story format. The text is introduced by your teacher, then spoken at normal speed. At the end of the story portions, your teacher then goes back to point out and explain the complex sentence structures.
Because it's all audio, you won't get any reading or writing practice, which is very important when you remember that the French language has many silent letters you wouldn't know about by just hearing it. The full version of the course will give you transcripts to see them, but you have to pay for the full season. There are also no quizzes to test your understanding of the concepts and to show you where you might need to improve.
The audio lessons are available for free, a huge plus for people like me who don't want to spend money if at all possible. For $104 for a season or $355 for all four, you can buy the paid version and it will get you video versions of the lessons, additional podcast content, and transcripts and additional explanations.
11. Memrise (Decks)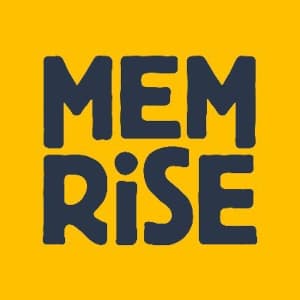 Pricing: Free
Course summary: Sometimes you just need to sit yourself down and go through a deck of flashcards to really get French locked into your brain. Memrise will help you do just that. This online flashcard site lets you create your own flashcard sets or use sets that other users have created, all for free. There are also sets created by Memrise staff which comes with the Premium subscription at $9 a month or $59 for a year.
Memrise won't teach you how to use those words you're memorizing though, but it's a good supplement to your French learning process.
Tutors and Language Exchanges:
12. Lingodeer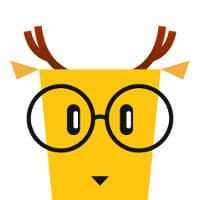 Pricing: $9 per month
Course summary: For the absolute beginner, Lingodeer has a great introduction to French by beginning with the alphabet and phonetics. That may not sound exciting at first, but Lingodeer offers several different methods in their course to keep you interested.
Lingodeer falls into the trap that an online French course does, where independent learners don't get the same level of conversational skills as they would in a classroom or cooperative environment. To really move past that listening and speaking barrier, you'll need to supplement your learning with other resources.
Many users compare Lingodeer to DuoLingo – reviewed below – and it's a bit split. Lingodeer has a better platform for reviewing the vocabulary and for learning the grammar in most reviews.
Lingodeer comes under a subscription at $9 a month or $42 for the whole year.
13. Coursera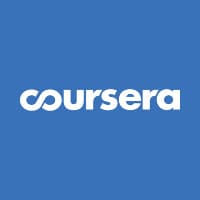 Pricing: Cost varies widely
Course summary: Massive Open Online Course platforms are gaining attention these days and for good reason. University-style courses on a wide variety of topics without the university class price? Oui, s'il vous plait. Both Coursera offers MOOC French classes geared towards students wanting an Advanced Placement prep course. Courses cover advanced grammar and verb conjugations, and will even help you learn to write a French composition for an AP exam.
Because these courses are aimed at students wanting to test out of beginning levels of French, Coursera doesn't offer beginning classes. But if you want to step up your French learning with a challenge, you'll certainly get that with a Coursera online French course.
If you really want a challenge, Coursera offers classes on other topics in French – no English added. And of course, like the French AP courses, they're free as well, though you may have to pay for certain features.
14. edX
Pricing: $40 per month
Course summary: Very similar in concept to Coursera, the main differences between edX and Coursera are the number of courses – Coursera has a wider pool – and cost. Where you may have to pay to access features within a free course or buy a course outright from Coursera, edX offers free courses.
If you're so inclined, there's an option to purchase the course. This would include graded quizzes and exams, and once you've successfully completed the course, you'll receive a certificate. The costs vary a little bit between the two courses, but a $40 a month subscription should get you access to these accredited courses.
15.
Pricing: Starts at $20
Course summary: More than a podcast and more educational than your average novel, French Today offers audiobooks ranging in subject and purpose from learning the basics to advanced stories. The audio learning series for beginner and intermediate levels gives you two speeds of the entirely French story and a PDF transcript in both English and French. This PDF also has a study guide to work you through new vocabulary and grammar.
Other audiobooks include subject-specific recordings on things such as pronunciation, poetry, and different grammar topics. These vary in length depending on the topic.
Unfortunately, there aren't a whole lot of quizzes and review tests to make sure you understand what you've learned. There's also nothing to keep you motivated except your own self-discipline. But with so many different story options to choose from, you'll always find something to bring you back.
Because they're audiobooks, there is no subscription to buy that will get you complete access to everything. Individual books range from $20 to upwards of $70, but keep an eye out for sales and book bundles that will save you money.
16. Duolingo French
Pricing: Free
Course summary: Widely popular because it's free, it's fun, and it offers many different languages that you can try to learn all at once. The online French course is constantly being updated with new content and levels so that when you think you've finally mastered the course, there's something new to do.
Duolingo functions on a game-style of learning. As you learn new skills you earn experience points to keep your daily streak. If you chose to be a "casual" learner, you'll only need 10 experience points to reach your goal – the equivalent of one lesson. For the truly enthusiastic, try the 50-point "insane" goal.
In many of the skill -levels a brief grammar explanation is provided, but sometimes there will be sentence structures and uses of words that haven't been taught yet. Enter the forum, where users can ask questions about a particular exercise, such as why an alternative translation wasn't accepted or an explanation of how a pronoun worked in an example.
Some of the sentences you're expected to translate don't always make sense either. When would you ever use the sentence "otherwise, I want a child" in real life? Other than the sometimes impractical sentences, there are also exercises with multiple different translations, but only one or two are accepted by Duolingo. In cases where something should be accepted, users can flag that sentence for admins to review and are often added to the correct solutions.
The biggest thing in Duolingo's favor is the cost – it's free for all the features. The premium plan takes away adds and allows some features to work on the app rather than just on the website, like testing out of a level. But if you don't mind ads and you use the website rather than the app, there's little reason to pay for a subscription.
17. Michel Thomas French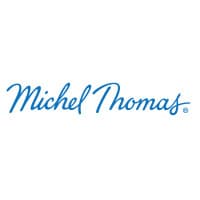 Pricing: Usually $130
Course summary: Another well-known name in the language learning field is Michel Thomas. This course uses a classroom learning style, where the English-speaking host and a native speaker teaches two students – there for real students to put themselves in their place.
The lessons are well laid out in a logical order. The principle behind the method is a bit strange, however. The Michel Thomas method relies on the teacher to correct the students, and if the student doesn't understand something it's the fault of the teacher for not teaching well. The method actually discourages students from memorizing, studying, and reviewing, stating that if the teacher does his or her job correctly, the student doesn't need to put in any work.
This method may work for some, but most learners find that it just doesn't work for them. Depending on the course you choose you'll be spending between $12 to $100 or more, so proceed with caution if you're considering this, and I would not call in the best online French course.
Audio and video clips and lessons
18. French Your Way
Pricing: Free
Course summary: This website is less of a course than it is a resource for all things tricky about French. Jessica takes some of the most confusing parts of French, like the difference between que and qui, and explains them so simply you'll wonder how you were ever confused.
Each podcast has a variety of subjects alternating between vocabulary, grammar, and cultural information. Jessica delivers it in such a friendly style you'd think you were sitting together at un café drinking un tasse du café. Her podcast subjects come directly from listeners who are encouraged to write in their questions.
The podcast has been on a leave of absence with no solid return date, but with such a passion for teaching, it would be surprising if new podcasts didn't start appearing at some point. In the meantime, there are hundreds of podcasts to listen to on French Your Way and on French Voices, the sister podcast featuring interviews of native French speakers talking about their passions.
19. Comme Une Francaise
Pricing: Around $200
Course summary: Translated that means "like a Frenchwoman". You could also say "comme un Francais" because Geraldine's courses are for everyone. Comme une Francais focuses not only on natural-spoken French but on how to be French.
Geraldine has a YouTube channel rich with a variety of topics, all presented in a fun, easy way. The cost of courses is a little obscure, but the ones I saw were around $200 for a 20 lesson course; a little on the high side, but with lots of meaningful content. Some classes are limited in the number of students but do have a waiting list.
20. News in Slow French
Pricing: Starts around $15
Course summary: Is there a better way to move from book learning and academic principles to thinking in natural French than to listen to real news? Relevant articles about news from French-speaking countries opens the door to the culture of the French-speaking world.
There is no teaching per se here and is better suited for people who already have a basic French foundation. But even the earliest learners can find information to help them learn by immersion. The articles have both slowly-spoken audio and a transcript. Some potentially unfamiliar terms are highlighted and give you a translation when you click on them. The intermediate offerings are especially large, from politics to lifestyle to historical events and how they changed French culture.
News in Slow French also has a basic app, and hopefully, they'll continue to enhance it. A subscription to News in Slow French is reasonable, between $15-$25 depending on your level. Some of the content is even free if you want to try it out.
21. Ilini
Pricing: Starts at $6 per month
Course summary: Similar in concept to FrenchPod101, Ilini is a relative newcomer to the French world. Using short French videos with captions and definitions, Ilini also offers PDF printout exercises to print out. Like FrenchPod101 the videos cover lots of different topics at all different levels. Filters allow you to search for videos by level and/or topic.
Monthly plans start at $6 a month, making Ilini great value.
22. Speechling
Pricing: ~$20 per month
Course summary: To improve your pronunciation and diction in French, use Speechling to record and compare your speaking to a native speaker. By mimicking native speakers lower level learners hear where their pronunciation needs improvement. Upper levels can answer questions, describe images, and use the "freestyle mode" to try out making up their own sentences.
Speechling is free to use, but the Unlimited plan adds a teacher review and correction to the automated recording comparison. At $20 a month for a real person's corrections, the subscription adds great value to the free features.
23. Speaky
Pricing: Free
Course summary: Users of Speaky aren't just learning a language, they're also teaching their native language as well. When you sign up for Speaky you select your native language and the language you want to learn, in this case, French. You're then matched up with native French speakers who want to learn and improve their English.
Speaky is like social media for polyglots; you can message anyone to start a conversation. Some people are only there to learn a language and don't want to form long-term friendships. For others, friendships are an added bonus. With a large community, you'll find at least one person you enjoy talking to.
Speaky is free to use but has a premium subscription option that adds features like added search filters and no ads. For $4 a month, it's nice to have but not necessary.
24.
Pricing: Starts at $15 a month
Course summary: FluentU boasts learning a new language through native videos so you learn words and grammar naturally. The subscription-based site offers more than just video clips in French, which you could find on any site like YouTube. It actually allows you to replay specific words, make a loop of troublesome sections so you can repeat them over and over until you understand, and my favorite, a built-in dictionary for looking up definitions while you watch. The video subjects include everything from politics to pastry, culture to science, and much more.
FluentU's personalized learning feature can tell you how many words of a video you already know through your flashcards and through the videos you've already watched. Tracking where you are in your learning process fine-tunes which videos show up in your recommendations and what vocabulary to quiz you on.
For on-the-go learners, there's also the FluentU app, which syncs to your desktop profile.
FluentU's limitations lay in its structure – it doesn't have one. It's up to you to choose what you watch; there's no progressive series that will step you through consecutive concepts. Because of that, FluentU isn't the best resource for complete beginners.
If you already know a bit of French and you want to step past book-learning and concepts into real-world comprehension, FluentU is a great choice. At $15 a month for the basic plan and $30 a month for their premium plan, FluentU is reasonably priced for the amount of content you'll get. If you buy a year-long subscription, you'll get a 33% discount off of whichever plan you decide on.
Summary: Best online French courses
That just about covers every available online French course I think. 🙂
Anything I missed?
As you can see by now, the internet is full of stellar and not-so-stellar resources for French learners. To choose the best online French course depends greatly on the person learning French and how they learn best. Overall here are my top picks:
Courses: For a combination of value and valuable content, I would go for Coursera for more advanced learners, and Rocket French for all levels as the all-purpose best online French course.
Audio/visual: For podcasts and videocasts explaining the French language and culture, I love Comme une Francais. For immersion into full French podcasts and videos, Ilini is my choice.
Tutors/exchanges: This category is definitely dependent on who you meet up with, but for platform design and ease of use italki fits the bill.
Whichever resource you choose as your best online French course, bonne chance!
Just remember: Even with the greatest French course in the world, you still need the right mindset and commitment to succeed.
Of course, it needs to be said that you can have the greatest resource in the world and still not learn effectively with it.
It all comes down to you, the learner.
In addition to quality course content, make sure you're using French frequently with native speakers. If you don't have access to French speakers, I highly recommend italki.
---
Know of a good French course that I didn't include here?
Share it with me so I can add it!